Reposted from the Blu-ray.com Forum:
Sat down to watch the recent BFI
Birth of a Nation
disc tonight, but after about sixteen minutes of viewing, I had to pause it and ask you folks - is anyone else seeing some extremely unsightly macroblocking in the black parts of the image? I've actually noticed it here and there throughout the film so far, but can someone check out around 16:26-16:32? That shot seems really bad!
I also noticed macroblocking in the middle of the image during the "Where did you get that hat?" intertitle (10:04), the "Over the plantation to the cotton fields" intertitle (11:30), during the iris-in at 11:45 (especially in the bottom left and right corners), the "By way of love valley" intertitle (11:59) and the iris-in/out shot that follows. It's a real shame because the other parts of the image look great.
I can't keep watching it if it looks like this. I'd compare it to the problematic first-pressing
Battleship Potemkin
BFI discs.
I own the MOC but I don't have it with me, so I can't do a direct A-B comparison. However, I don't remember anything so egregious on that disc. I threw in the MOC
Intolerance
for something comparable, thinking the issue might lie with my television, but I'm not seeing anything of order on that one.
I don't have any screen-capturing software, but I took a photograph of my television to illustrate the problem (it's super distracting in motion):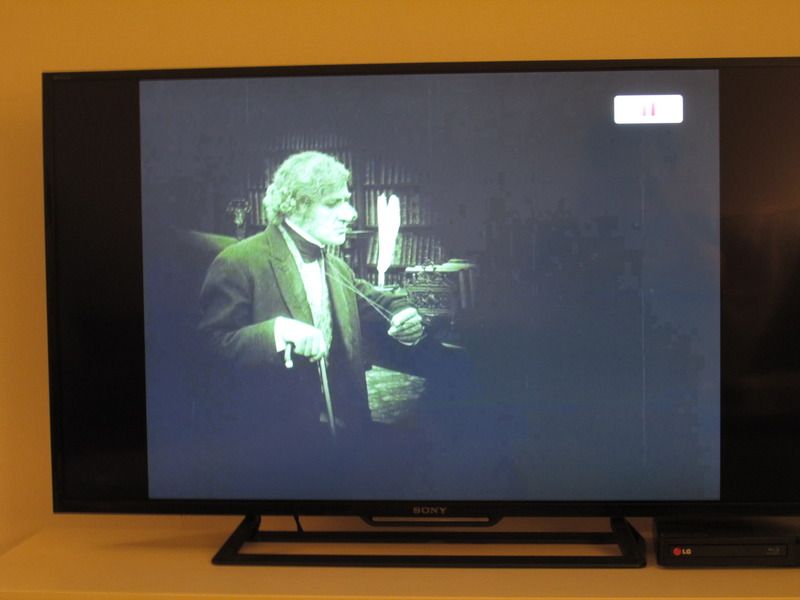 Now, I realize that that photograph makes it look like I've got the brightness cranked on my TV - I assure you, it only looks like that because of the way the image was captured by my camera with no flash. Here's another a picture of the same frame with the flash on my camera to give you a better idea of what the brightness level on my TC set is (it's actually a touch brighter in person). The flash masks the macroblocking: