Yuri Ilyenko
A Spring for the Thirsty (1965)
St. John's Eve/The Eve of Ivan Kupalo (1968)
(I believe these are both available on unsubbed, not necessarily very good quality DVDs from Russia. However, fansubs are circulating online.)
Forgive me for posting this so late in the game, but I only became aware of this director earlier in the week when one of you wonderful people included a film of his on your list. Ilyenko had only two films this decade and both are only about 70 minutes long, so you might still find a chance to fit him in over the next two days. It was pretty much love at first sight for me. Ilyenko was Parajanov's cinematographer on
Shadows of Forgotten Ancestors
and this fact will be abundantly clear to anyone watching these films who is familiar with that one.
A Spring for the Thirsty
is the more clearly subdued of the two (though admittedly, a train derailment would look subdued compared to what was to follow) but it being quieter should not be mistaken for it being less powerful. It's a beautiful, haunting, and puzzling work, though perhaps a bit difficult to discuss as it carries itself primarily on its visual poetry.
His next film is, I believe, most commonly known as
The Eve of Ivan Kupalo
, which is a title that sounds nice and Russian but frankly doesn't make a lot of sense. It's based on the Gogol story
St. John's Eve
, which was also the inspiration for Mussorgsky's "Night on Bald Mountain." Mix the
Fantasia
interpretation of that piece with a healthy dollop of Medvedkin's
Happiness
and maybe a bit of the Three Stooges, and you might have some idea of part of what you're in for here. The Parajanov feel is also very present, though on acid, and at times, seemingly with the benefit of zero gravity. Consider some of these stills (not plot spoilers, but spoilers I suppose of some of the film's finest shots):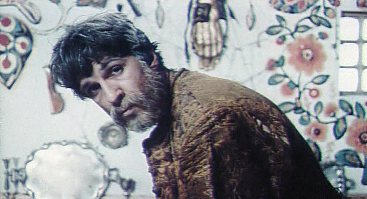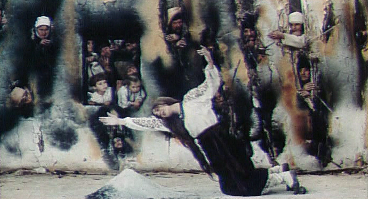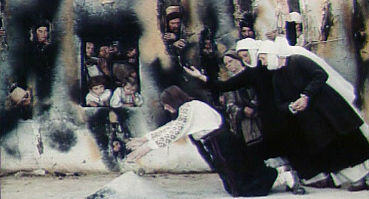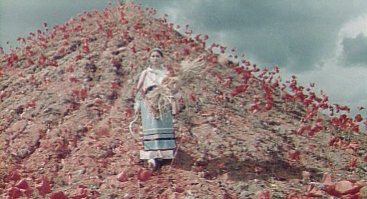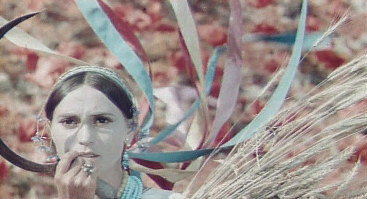 Other than his first '70s film, it's apparently mostly downhill from here, but I still have a hard time thinking of Ilyenko as anything but a great director even if only on the strength of these two films. It's going to be a bit rough sorting out my feelings for them in so little time, but I can guarantee that at least one of them will be making my list.