swo17 wrote:
So basically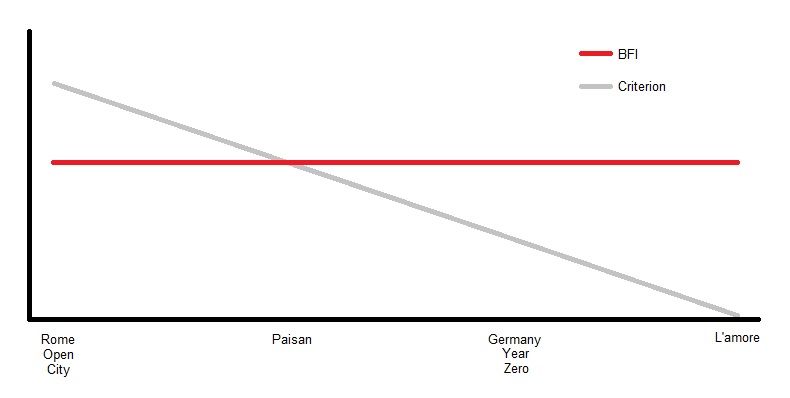 This is the way I am perceiving the overall comparison as well (nice job on the graph, btw). The published internet reviews on the variant gamma/contrast levels between the two editions can be ameliorated/tweaked on my projector's own custom gamma, noise reduction, and contrast settings, so this particular aspect of ANY video release is not really an issue with me (although it is well nigh impossible to reinstate grain level on a transfer that exhibits too much DNR at the mastering stage).
Anyway, I am deciding on pulling the trigger for the BFI RR boxset, since I already own Criterion's RR War Trilogy set on DVD, therefore I will have the majority, if not all, of the extras contained in that boxset. Moreover, the main draw in acquiring the BFI set is L'Amore's inclusion, and the fact that it would cost me less than $30 USD (w/VAT exclusion), compared to $50 during the next B & N sale for the Criterion. That said, I'm also aware that L'Amore is a likely stand-alone release by Criterion at some point, with the disc setting me back $20 at half price, and I would more than likely double dip anyway with the inclusion of bonus extras. Therefore, I'm right back at the $50 level in owning the best
available
editions of the War Trilogy & L'Amore on video.
Does obtaining the BFI box seem like the rational move at the moment, given the reviews and personal context I've laid out?